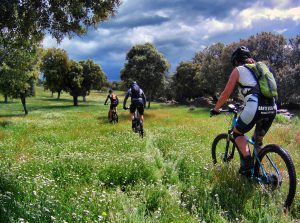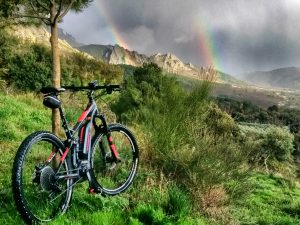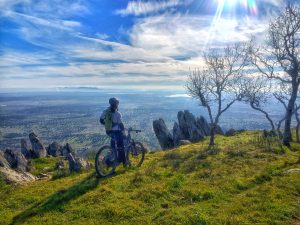 This is one of strong points, Maximo, owner of Cielo Abierto, with his wife, he is a big fan of cycling and has come mythical areas for this sport throughout Spain.
We can use the bicycle as a tool of reach singular places, calmly and with stops at places of interest. A proposal of comfortable routes in which the discovery of the environment will prevail over the sporting challenge, although in this mountain area a minimum of physical shape is necessary.
Or more sporty routes, mtb routes that have nothing to envy to those of other more known Spanish mountain areas. We have the difference, the clues, the paths, landscape, the territory, the diversity, the difficulty ... but it is still a very unknown area. Be the first to discover what will undoubtedly become a mountain bike mecca.
We offer:
Catalog of circular mtb routes "Cielo Abierto-Cielo Abierto", since 30 until 80 kms day. With the level of difficulty, unevenness, firm and environment you prefer.
Mountain bike weekend route from 2, 3 The 4 days.
Electric mountain bike rental (previous reservation).
Guide service.